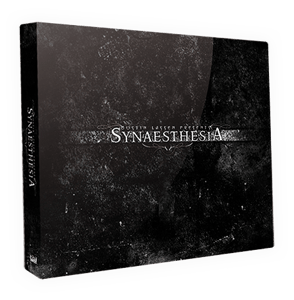 $

39.99
VERY LIMITED SUPPLY LEFT!! GET IT WHILE IT LASTS! IF YOU'VE EVER WANTED A COPY, THIS IS THE TIME TO ORDER! NO MORE RE-PRINTS.
5 years in the making, Justin Lassen's groundbreaking Synaesthesia Series is finally here in a gorgeous, limited edition 2-disc collector's set. Composed and created on two continents over the course of the past half decade, Lassen's Synaesthesia project combines music, story, data, and artwork in a sublime experience that transports listeners to unimaginably fantastic worlds.
Uniting the talents of a cadre of legendary CG artists, Lassen brings their visual work to life with an amazing score of dark classical and ambient music, richly composed, flawlessly performed, and beautifully mastered. 'Justin Lassen Presents Synaesthesia' has a clarity of vision that is undeniably brilliant in its creative marriage of art forms, and Lassen's audio-scapes have a raw and fundamentally visceral quality that will leave listeners at-once breathless and energized, transported and transfixed.
Never-before-released on CD, this amazing set features nearly 2 hours of ultra-high quality music on 38 tracks over 2 discs. It is released in a limited edition, one time printing -- once it sells out, it's gone. *The first 200 copies will be hand signed by Justin Lassen.
-Josh Catone
"I recommend everyone to close their eyes, listen to these tracks and see the inspired art inside." - Paul Hellard, CGSociety (Australia)
"Art is a power. Music is a power. And when these two forces combine in Lassen's Synaesthesia projects, truly wonderful things happen – not only visually, but you will find each and every one of your senses come to life as you sink into Lassen's symphonies whilst indulging in the hypnotic works of our industry's bests." - Lynette Clee, 3DTotal (UK)
"Ever since, I met Justin Lassen and his music, i've never ceased to be amazed by the way he's integrated digital art in his music to create a whole new universe which opens the gate to unconscious worlds. Listening to Justin's art is not only a journey into imagination but a also a new kind of digital art, collaborative and innovating." - Patrice Leymarie, IT'S ART (France)
Synaesthesia 1 (CGSociety: May 2006)
Synaesthesia 2 (3DCreative: October 2006)
Synaesthesia 3 (It's Art: June 2007)
Synaesthesia Encore (CGSociety: August 2008)
Justin Lassen's Synaesthesia featured at Intel.com
*In order to sign copies of the album, Justin needs to remove the protective shrink wrap. If you would rather that your album arrive with shrink wrap intact, please let us know in the notes section of your order and we will send your CD unsigned.
NOTE: WILL BE SHIPPED USPS - FIRST CLASS MAIL WITH DELIVERY CONFIRMATION WITHIN A WEEK OF PLACING ORDER. ACTUAL ARRIVAL TIME MAY VARY. CONTACT US, IF YOU HAVE QUESTIONS OR CONCERNS.